We'll bring your bridal makeup dreams to life at your trial. Here's how to make the most of the experience.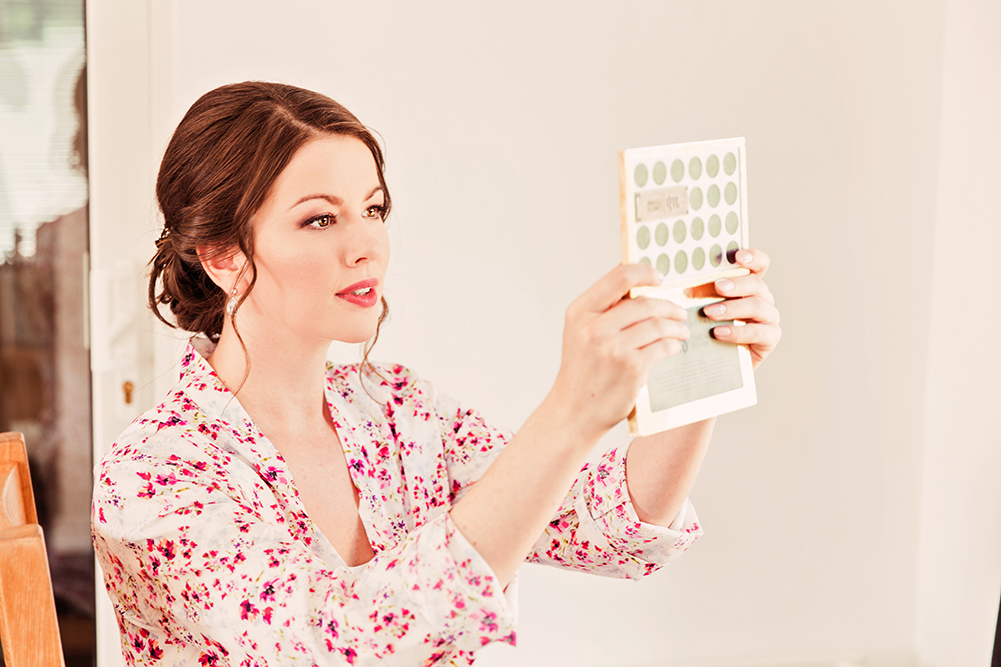 Your bridal makeup vision.
It helps to spend a short while preparing for your bridal makeup trial by browsing images of different makeup looks. Pinterest is a great place to start, but I'd also advise taking some time to look through my portfolio. Bring along the images to your trial and we can discuss the elements you like from each one.
Get inspiration from my Pinterest board for dreamy bridal makeup looks.
Explore my portfolio.
Your makeup style.
Bring a photo of when you felt your best or arrive wearing your usual style of makeup (but no mascara or eyeliner). This lets me see to how you like to look and what style of makeup you're used to. For example, 'natural' or 'smokey' can mean different things to different people, so the visual helps me to get on your wave length.
Lots of bridal makeup artists agree that your wedding day perhaps isn't the time to try something completely different to your usual style; whether that means full on glamour or a natural glow. But of course it's your wedding, so go with your heart!
What to wear.
Wearing a top or dress in a similar shade to your wedding dress helps you to picture how you will look as a bride. It's also a good idea to try and book your hair trial on the same day – it can be difficult to imagine all the elements put together.
Whatever you decide to wear, just make sure it helps you feel comfortable and confident. Feeling good is the name of the game here.
Prepping your skin for makeup.
It's important to put a good skincare routine in place before your wedding. This will help makeup to 'sit' well on the skin, and can even prolong the wear of your foundation. If you're unsure about your skin type and what products to use we can chat about it during your trial. My mantra is cleanse, exfoliate (gently) and hydrate! Please don't worry if you have a specific skin concern that just won't go away, I've been there myself and know how frustrating it can be. I have lots of tricks up my sleeve to help you feel more confident about your skin.
Be realistic.
Please bare in mind that a lot of the photographs you see online and in magazines have been heavily retouched. Even with the best skills and makeup in the world it's impossible to erase every line, pore and bump. I like to include my own photographs in my portfolio so you can see a more realistic result. Your wedding makeup should enhance your best features make you feel fabulous. Think polished and radiant, but still 'you'.
Don't be afraid to be honest.
I like to begin the trial by reassuring you that you can be 100% honest with me. It's my job to make you feel incredible when you walk down the aisle, but that can only be achieved by having an open discussion throughout the appointment. We can make small adjustments or even start again with a different idea. It's important to remember that makeup is fun! Don't panic if you loved the idea of a red lip or smokey eye but it feels a bit too much, we can simply wipe it away and go back to the drawing board. I understand that makeup is a personal thing – we all have our own tastes and signatures.
After your bridal makeup trial.
Take your selfies in good light, e.g. standing to the side of a window. I recommend keeping your makeup on for the rest of the day so you can see how the products wear on you. I aim for the makeup to look great for the rest of the day with a few low maintenance touch-ups such as powder, lipstick and perhaps a touch of concealer. Take some time to make sure that you're totally happy with the look. Maybe in hindsight you'd prefer brown liner instead of black, or a brighter blush? Get in touch to let me know you thoughts and if we need to make any tweaks.